How soon before you go on holiday do you start worrying about what to take with you? No matter how far in advance you start packing, when you get there you discover you have left some essential item back at home and then frustratingly you are either stuck without it or have to pay a fortune for something that costs a few pounds back at home. You want to go on holiday but find the packing beforehand too stressful. What you need to take depends on who is travelling and where you are actually going. Here is a general packing list for you to make your planning easier and hopefully you will be more relaxed before you set off and your focus can be solely on enjoying your break!
Start your preparations a few weeks before you travel if possible and keep items to one side before you actually pack them so you can see how much you have of everything and what you still need to buy before your trip. Bear in mind the weight restrictions for different airlines and leave enough room in your suitcase for souvenirs. It is best to check your flight reservation details to make sure your bag isn't going to be over the weight limit as this can often result in hefty charges.
Clothes and Packing
Image taken by a.drian on Flickr
Cotton is cool and breathable. It is recommended to save space and reduce creases that you roll up clothes to fit in your suitcase, rather than folding them neatly and lying them on top of one another. There is an art to packing a bag and ensuring that our clothes are still wearable when you reach your destination. Pack the heaviest items first like shoes and trousers then roll up socks and small items and top of your case with your dress items like shirts and blouses.
Shoes
Image taken by theogeo on Flickr
Wear your trainers on the plane, as these are your heaviest shoes and you will need sturdy footwear for all that walking around the airport. These can be used again for sightseeing. Sandals and or flip flops for the beach and poolside can be packed in your bag as they are smaller and lighter. If you are taking smarter shoes for the evening make sure you place them in a protection bag before packing to make sure dirt from the soles doesn't end up on your clothes and vice versa as items like belts can scratch soft leather shoes.
Flip-flops
Smart shoes
Sandals
Trainers
Evening shoes

General clothing for hot weather
To save space think about packing clothes which match in colour. Pack t shirts with and without sleeves, shorts, two sets of bathing suits, sun hat, sun dress, sarong. Cotton trousers and a long sleeved shirt to cover burnt sore skin. Basically make sure you have clothes, which cater for all weather conditions and occasions. The clothes you are packing will depend greatly on your destination but it is important to make sure you have suitable clothes for all parts of your holiday and not just poolside clothes.
A scarf to cover the head if visiting areas of cultural or religious sensitivity
Cardigan/jacket for cooler evenings
Small handbag for ladies with a zip to avoid pick pockets
Possibly smarter clothes e.g. long pants or tie for a man if you have to dress for dinner at your resort.
Ladies might want to take a small amount of jewellery and make-up.
In case it rains- travel umbrella, waterproof jacket.
Leisure
Image taken by Stewart Black on Flickr 
The best part of going on holiday is that you have time to relax and enjoy yourself. Make sure you pack enough items to keep you amused by the poolside and also while travelling on the plane or any additional travel you may encounter on your holiday like day trips and airport transfers.
Books can be heavy and take up a lot of space in your bag so e-readers like a Kindle are a great option as you can take your whole library with you on holiday! Other leisure items could include a digital camera and ipod or other music devices.
Books, Kindle, iPod, iPad, and associated chargers.
Swimming goggles
Playing cards
Inflatable lilo/beach toys
Any sports equipment you need
Beach bag/rucksack
Beach towels/beach mat
Camera and charger
Medical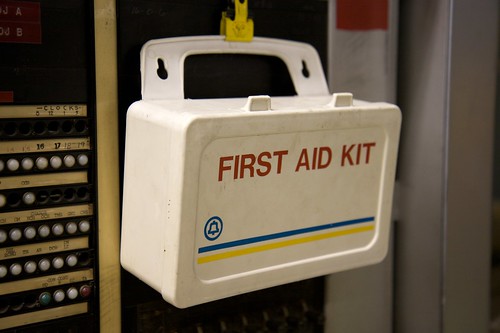 Image taken by Marcin Wichary on Flickr
Hopefully you won't need any of these items while enjoying the sun but it is important to make sure you have medical supplies close at hand just in case. It is sensible to take a basic medical pack containing everyday items like plasters, bandages and paracetamol alongside the other items identified in the list below:
Sun cream
After sun
Antihistamine tablets
Diarrhoea tablets
Antiseptic cream
Plasters
Painkillers
Mosquito bands/insect repellent
Your usual prescribed medication and copy of prescription
Birth control pills.
A spare pair of spectacles/contact lenses if worn
Contact lens solutions
Sunglasses
Practical
Image taken by antjeverena on flickr
Some people love gadgets and can't live without certain home comforts like hair dryers or a travel kettle for a cup of tea. Therefore this list outlines popular travel gadgets, which often make their way into holiday makers bags.
Travel adaptor
Travel kettle
Insulated cup for cool drinks
Torch
Washing line and a few pegs
Scissors
Antibacterial hand wash
Notebook
Camera
Travel alarm clock
Hair dryer
Ear plugs
Guide book
Any (non-fresh) food you might need for a special diet or for the children
Carrier bags for dirty/wet washing
Portable luggage scale
Toiletries
Image taken by javajoba on Flickr
As airlines have tighter security measures in place the limit to the amount of toiletries you can take on a flight has been altered in recent years. Make sure to check flight guidelines before flying and packing as often infringements of packing instructions will result in delays at the airport and may mean your toiletries are taken away!
Skin cleanser
Shampoo and conditioner
Shower gel
Moisturiser
Toothbrush, toothpaste, dental floss, mouthwash
Razor and shaving gel
Deodorant.
Feminine hygiene products
Nail file
Hairbrush
For toddlers- ordinary nappies and swim nappies.
For the Plane
 Often airlines will allow passengers to take a in-flight bag on your trip. Try and pack items into this bag which you will need close at hand or during the flight like sunglasses, books and travel papers. It is best to keep all of your travel documents and tickets in one place like a travel document folder but just make sure you keep tight hold of it!
Magazines
Books
Ipod/Ipad, mobile phone etc
Money belt/wallet/purse with UK and foreign currency/bank cards
Pen
Passport and visa and photocopies.
NHS EHIC card if travelling in the EU
Travel Insurance documents
Driving license
Itinerary details and receipts
Emergency contact information
Travel sickness tablets
Wet wipes
Lip salve
Snacks/drinks
Travel pillow
Travel socks/eye mask
Comb
There is a lot to consider when packing for a trip it is also worthwhile having a back up plan for delayed luggage which should include essential medication, spare underwear, swimsuit, shorts and t shirt for everyone in the party. Try to take enough clothes to last a couple of day in your in-flight luggage in case your main bag does go missing.
If you are travelling with children, pack some activities and snacks which will help them pass the time quietly they will not disturb other passengers.
Once you have packed everything and gone through this somewhat stressful process then you really will need a holiday!
This article was written on behalf of Pick Me Up Magazine who have lots of advice on how to play bingo